Vitamin C in Skin Care: An In-Depth Guide by NUME-Lab
Known for its antioxidative and skin brightening benefits, vitamin C (aka ascorbic acid) is one of the most popular skincare ingredients out there – and with a good reason. 
This powerful ingredient is a whiz among skincare ingredients, being less harsh than AHAs, BHAs, or retinol and yet full of properties such as anti-aging, collagen-boosting, and fading dark spots. 
Keep reading to see how to incorporate this anti-aging ingredient into your clean beauty routine.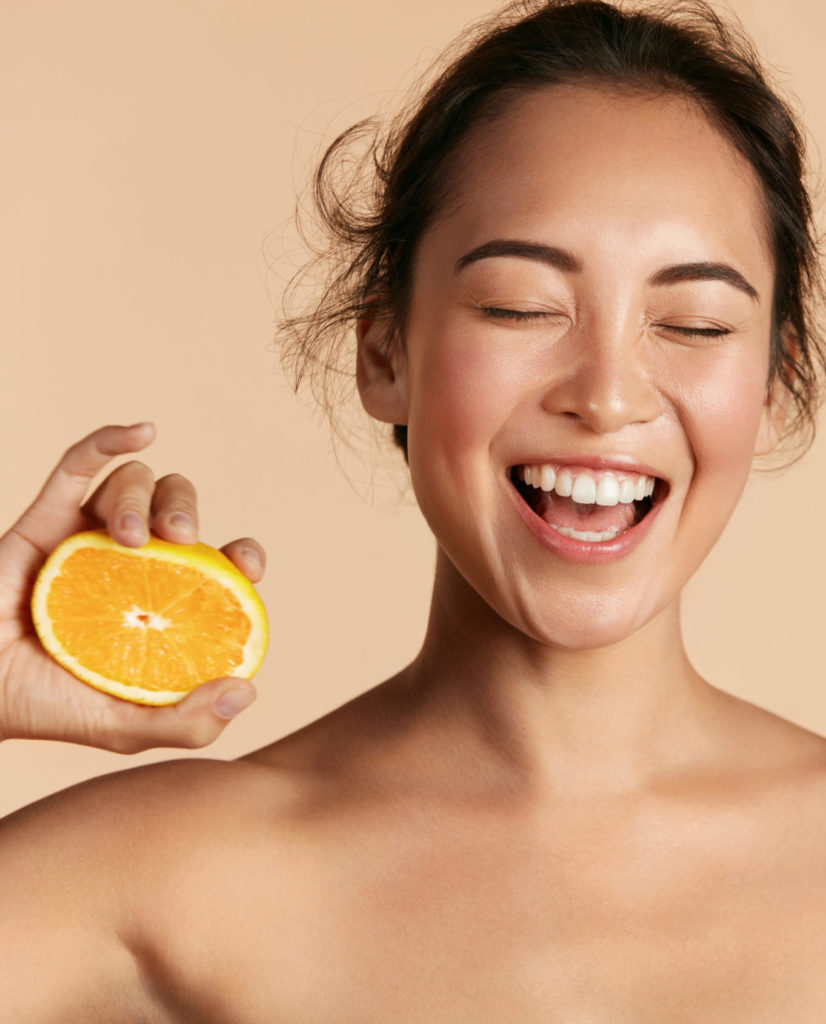 Crucial to cell repair and healing, this active plays a huge role in skin care and overall health. Although it's an essential nutrient and antioxidant, unfortunately, our bodies don't produce it naturally. So, to feel its benefits, we have to apply it topically for skincare or consume it as a supplement for its other health benefits. 
Ascorbic acid in skincare can be a powerful ingredient helping with many different issues: dark spots, hyperpigmentation, mature skin, skin damage, acne scars, and more.
The Science Behind Vitamin C
This beloved ingredient is a water-soluble antioxidant with many potent skincare benefits. It has impressive antioxidative and free radical fighting properties, protecting your skin from smoke, pollutants, UV rays, etc. Additionally, it can also help you treat hyperpigmentation and fade dark spots or age spots. And finally, it boosts collagen production, reducing fine lines and wrinkles and rejuvenating aging skin.
Skincare Benefits of Vitamin C
As if being an immune-booster and cancer-fighter wasn't enough, it also comes with tons of skincare benefits. Let's take a look at all of the incredible benefits of skin care products with this anti-aging ingredient!
An antioxidant that fights free radicals
When ingested, vitamin C showed science-backed benefits such as a decreased risk of cancers and cardiovascular diseases. These benefits are all due to its antioxidative powers. Topical vitamin C skincare products also share the same free-radical-fighting powers that protect the skin against external pollutants, smoke, UV rays, etc.
The second significant benefit is its skin brightening feature. With its help, you can fade dark spots and hyperpigmentation caused by UV rays and aging. By inhibiting an enzyme called tyrosinase that's needed for melanin production, this active can not just prevent dark spots but also face away existing ones.
The next impressive benefit for the skin comes from its collagen-promoting property. With this, it can indirectly have an anti-age effect and make your skin look more plump and rejuvenated. That's why dermatologists often recommend vitamin C for its anti-wrinkling impact on aging skin.
All of the antioxidative and collagen-boosting properties above make this holy ingredient an excellent skin repair agent. On top of that, the healing properties make it perfect for acne-prone skin, especially for healing acne scars.
Most skin types can tolerate this brightener well. However, if you have sensitive skin or if you use a vitamin C serum with a concentration of 15 or 20%, you might experience some mild side effects such as:
Redness

Itching

Tingling

Irritation
If your skin often shows a reaction to its use, try using products with sodium ascorbyl phosphate instead of L-ascorbic acid.
In its most common L-ascorbic form is suitable for all skin types except sensitive skin. In this pure form, vitamin C has a pH of 3.5, which might be too irritating for sensitive skin. 
For those of you with super-sensitive skin, always keep in mind these three things to still enjoy the benefits of this brightening Vitamin without the irritation side effect:
Use natural skin care products and opt for a

clean beauty skincare

routine without any harsh perfumes, parabens, mineral oils, and other irritants;

Ensure your vitamin C skin care product has up to 5% concentration;

Instead of L-ascorbic acid, use products with sodium ascorbyl phosphate – the milder yet still bioavailable form of it;

opt for skincare brands that have a minimalist regime approach;
Sensitivity aside, this active in skincare products is best suited for:
Aging and mature skin with fine lines or wrinkles;

Acne-prone skin recovering from acne scars;

Skin with hyperpigmentation or dark spots;

Skin exposed to pollutants, smoke, and UV rays;

Skin with an uneven tone;
How to Use Vitamin C in Skincare?
Our first tip in choosing a good face cream or serum is to ensure it comes in a dark-ish packaging. This ingredient oxidizes when exposed to air or light, so it's best when it's in tightly sealed dark jars or packages and stored in a dry and dark place. 
The next thing you want to look into is the type or form listed in the ingredients label. L-ascorbic acid is the most effective and bioavailable form of topical vitamin C, but it's also the harshest one. For super-sensitive skin types, the best is to use it as sodium ascorbyl phosphate – a form that's more stable, gentler, and less irritating. 
What About Sensitive Skin?
This antioxidant can be a bit harsh to sensitive skin as it is, so avoid additional harsh and irritating ingredients in your skincare products. Opt for Natural/Halal and clean beauty skincare products, that use clean ingredients or a minimalist skincare routine without parabens, alcohols, phthalates, mineral oils, etc.
You can use topical vitamin C products once or twice a day, depending on how harsh they are. But, note that when using these products during the daytime, you have to use a stronger SPF!
Certain skincare ingredients like Snail Mucin Extract are naturally rich in certain vitamins, glycolic acid, allantoin, collagen, etc. So, if you don't want to use a product that contains vitamin C specifically, you can use a face cream with snail mucus instead to have the same result.
| | |
| --- | --- |
| INGREDIENT | Vitamin C |
| INGREDIENT TYPE | Antioxidant, Brightener |
| MAIN BENEFITS | fights free radicals and prevents skin damage, brightens skin and fights hyperpigmentation and dark spots, promotes collagen production, has an anti-age and anti-wrinkle effect, can help reduce acne scars |
| WHO CAN USE IT | aging skin, skin with dark spots or hyperpigmentation, dry skin, combined skin, oily skin, and sensitive skin (in smaller concentrations up to 5%) |
| HOW TO USE | as a face cream with vitamin C or a vitamin C serum, once or twice daily, in the form of sodium ascorbyl phosphate for skin that's sensitive |
| NOT RECOMMENDED FOR | sensitive or reactive skin in higher concentrations |
| COMBINE WITH | other antioxidants such as Vitamin E, Hyaluronic Acid, and natural actives such as Snail Mucin Extract |
| DON'T MIX WITH | benzoyl peroxide, retinols, alcohols, and other harsh chemicals |
Find Vitamin C in the Advanced Renewal Face Cream: