Aloe Vera in Skincare: A Succulent Plant for Succulent Skin
If we had to choose one skincare ingredient with the most diverse benefits, aloe vera would be among the top. This vitamin-rich plant is a powerhouse of skincare ingredients like vitamins C, A, E, and B12, enzymes, polysaccharides, and more.
For sure, you've used aloe vera gel for sunburn relief – the cooling sensation it provides is unlike any other. But did you know aloe has tons of different skin benefits? 
Let's find out together with NUME-Lab Switzerland if aloe as an ingredient also fits your skin type and routine!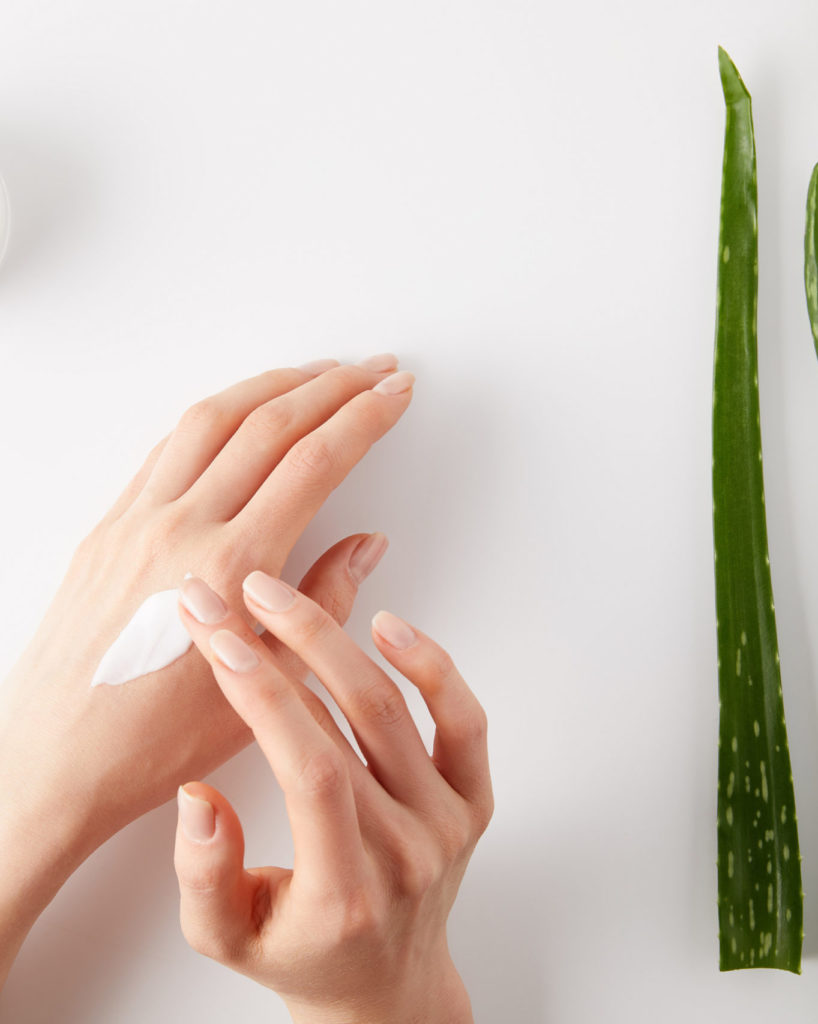 Aloe vera we know and use in skincare goes under the Latin name of Aloe barbadensis. This type of aloe is just one of over 500 different aloe succulents. Aloe has been used in traditional medicine from cultures worldwide, both for its skin and overall health benefits.
The gel that you find in its leaves contains 75 active skincare ingredients, including Vitamin C, A, E, and B12, folic acid, polysaccharides, antioxidants, and more. This rich composition gives aloe its healing, soothing, and anti-inflammatory properties. 
Additionally, the aloe gel is 99 to 99.5% water, making it an excellent moisturizing agent and it is used in the summer face creams. All in all, aloe vera is a vital ingredient for any clean beauty skincare brand.
The Science Behind Aloe Vera
Aloe vera (aka Aloe barbadensis) is a traditional medicinal succulent used for its health and especially skincare benefits since ancient times. Aloe is naturally rich in Vitamin A, C, E, B12, antioxidants, phytosterols, polysaccharides, folic acid, etc. In fact, aloe has 75 active ingredients – all contributing to its soothing, wound-healing, moisturizing, and anti-inflammatory properties.
Skincare Benefits of Aloe Vera
Aloe vera gel has many different skincare benefits when applied topically:
Sunburn relief and soothing
You've probably seen aloe as an ingredient in many aftersun lotions and gels. That's due to aloe's cooling and soothing effect. So, for minor burns or wounds, feel free to use aloe. However, if you have severe burns or deep open wounds, we advise you against using aloe.
Hydration and moisturizing
Due to its rich water content and the polysaccharides it contains, aloe can be the perfect moisturizer for all skin types. However, if you have dry skin, aloe alone might not be enough. In this case, we recommend combining it with another powerful and natural active ingredient such as Snail Mucin Extract. Snail slime and aloe vera work very well together to provide deep skin hydration.
Antimicrobial and anti-inflammatory
Aloe vera's anti-inflammatory and antimicrobial properties make it an excellent solution for skin itchiness and irritation. These aloe properties also make it beneficial for healing acne lesions and scars. It might not help prevent breakouts, but it will heal dry acne scars and spots much faster. Plus, aloe is rich in Salicylic Acid – a wonder for acne-prone skin.
Aloe is rich in Vitamin C and a compound called Aloesin – both excellent against acne scars and dark spots. But, of course, you can't expect to see results right away. For best results when using it to heal dark spots from acne, combine it with other brightening skincare ingredients like Glycolic Acid or Vitamin B3.
Aging skin will perhaps feel the most benefits from aloe vera in skincare products. Although so far, research has only proven the anti-aging benefits of aloe supplements for oral use, the hydrating effect of topically applied aloe products contributes to the reduction of fine lines. And, since dehydrated skin is often an underlying cause for wrinkles, topical aloe vera has an indirect anti-age effect.
Topically, the aloe vera gel is usually well-handled. However, sensitive skin types can sometimes show redness, irritation, burning, rashes, or another allergic reaction to aloe. 
If you have dry and sensitive skin that's easily reactive, always do a test patch first by applying the aloe product to a small skin area. Then, wait a couple of minutes to check if your skin shows a reaction.
It is suitable for everyone who doesn't experience skin irritation. Usually, most people can handle it well but do a test patch just in case. Typically, these skin types will feel the most benefits:
Dry skin types 

Skin with sunburn or wounds 

Inflamed or irritated skin

Skin with dark spots

Acne-prone skin
When we say aloe vera in skincare, we typically refer to the gel extracted from its leaves. This gel has a clear-to-milky white gel-like gooey substance. This gel is then used by natural and clean beauty skincare brands or as a drink or supplement to take orally. 
The oral use of aloe gel has many proven health benefits, but skincare isn't one of them. To feel its skin benefits, dermatologists recommend applying this gel topically. 
For topical use, aloe vera gel can be used as part of different skincare products or straight from the leaves. Although aloe from the leaf is more concentrated, many people can feel some stinging or irritation from using it in its pure form. Opt for natural, halal or clean beauty skincare products with no toxins and pure ingredients like a natural aloe vera cleanser or face cream to feel the best results.
| | |
| --- | --- |
| INGREDIENT | Aloe Vera |
| INGREDIENT TYPE | Healer, Soother, Moisturizer |
| MAIN BENEFITS | hydration and moisturization, soothing, anti-inflammatory, antimicrobial, sunburn relief, fights hyperpigmentation, anti-aging |
| WHO CAN USE IT | dry skin types, aging skin, skin with hyperpigmentation, skin with mild sunburns or wounds, skin with redness and inflammation |
| HOW TO USE | twice a day topically, in the form of a cleanser or moisturizer. Always do a test patch to ensure your skin doesn't react to it |
| NOT RECOMMENDED FOR | in its pure form, it might cause redness or irritation in sensitive skin types. Before using it, do a test patch to check for allergies |
| COMBINE WITH | aloe is a natural ingredient, which means you can combine it with any other active depending on your need. For skin regeneration and dark spots treatment, you can mix it with Snail Mucin or Vitamin C. For anti-aging and exfoliating, mix it with Glycolic or Salicylic acid |
| DON'T MIX WITH | there aren't any known interactions from mixing topical aloe vera with any other skincare ingredient |