Brightening Skin Care: How to Even Out Your Complexion?
Do you know what skin brightening is? Is it just fading dark spots, or is it bleaching? These are two completely different things, which, unfortunately, are often used interchangeably. 
Hyperpigmentation is typically a problem for aging skin, but it can happen way before. The main culprit is, of course, sun exposure. And yes, we know how exotic freshly tanned skin looks, but that doesn't mean it's healthy for your skin.
So, after the summer month, we're all after a good skin brightening routine like face creams for dark spots. Let's see what works!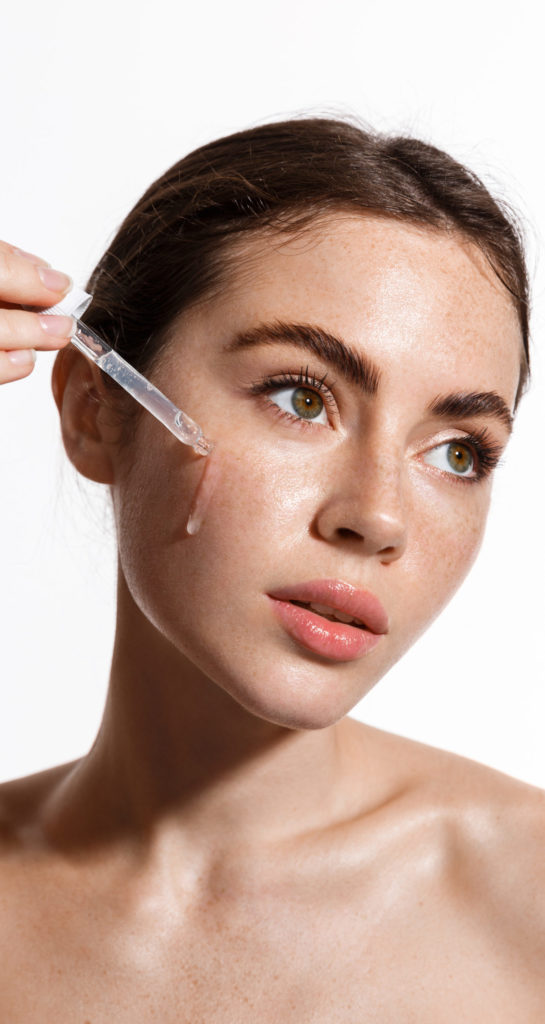 What Is Skin Brightening?
It is the process of evening out your skin tone and fading or diminishing dark spots, age spots, hyperpigmented skin, and skin with post-acne spots and blemishes. 
We believe that every skin tone is perfect, so when we talk about skin brightening, we talk about fading the imperfections and discolorations rather than bleaching your skin to achieve lighter toned skin.
How to Properly Use a Skin Brightening Product?
Skin brightening products can be in the form of creams, serums, peels, scrubs, cleansers, and more. How often you use your brightening product depends on its strength and the active ingredients it contains. 
For instance, a vitamin C brightening night serum with the addition of glycolic acid should probably be used only once or twice a week. However, a face cream for brightening that contains niacinamide, snail mucus extract, vitamin C, or hyaluronic acid can be used daily. 
Best Skin Brightening Ingredients
Skin that's prone to hyperpigmentation and dark spots needs a clean beauty skincare brands. We prefer natural and cruelty-free products over harsh ingredients that aren't sustainable and cause skin damage. Harsh bleaching ingredients will cause further damage and could even result in an uneven skin tone. 
Our cruelty-free brightening serum and our face brightening cream for sensitive skin are Halal-certified and formulated with Swiss biotech, with ZERO parabens, sulfates, alcohol, MEA, DEA, TEA, phthalates, alumina, mineral oils, etc. 
We use some of the most well-researched and best skincare ingredients for brightening your skin, such as:
Snail Mucin Extract has been here since ancient times. It has regenerating and lightening properties, and it's naturally rich in glycolic and hyaluronic acid, which further increases its efficiency in treating dark spots on skin and for this reason is used for the best face moisturizers. Furthermore, its healing and anti-inflammatory properties are research-backed. Check out Resurfacing Night Peel Serum with 10% of glycolic acid by NUME-Lab Switzerland.
Niacinamide as a skin-brightening agent has shown impressive results in multiple studies. For years now, professionals have been using niacinamide to reduce dark spots and brighten skin tone in general.
As a retinoid, Vitamin A is a well-known skill exfoliator. Removing dead skin cells promotes faster skin regeneration. The sooner your skin renews, the sooner your dark spots will disappear.
According to research, glycolic acid and lactic acid have the best melanin-inhibiting properties and are the most effective AHAs for curing dark spots. Glycolic acid directly inhibits melanin formation and speeds up cell turnover by gentle exfoliation. We suggest to implement using it at least once a week in the form of face cream, serum or face cleansers.
And we reserved a vital spot for one other EXTREMELY crucial product in your brightening skincare routine – sunscreen! That's right, sunscreen! 
Most cases of hyperpigmentation and dark spots are due to UV rays and insufficient protection. So, to avoid future discoloration and enjoy the success of your skin brightening routine for longer, don't forget to always wear sunscreen face cream.
Check Out the Resurfacing Night Peel Serum!
Save now by shopping our Skincare Bundles