Hyaluronic Acid in Skincare: The Ultimate Guide by NUME-Lab
Hyaluronic acid has become "the fountain of youth" in skincare. So, we cannot help but wonder – what is so special about this ingredient that makes it so good for your skin?
Do you know that our bodies naturally produce it? But, as we get older, our skin produces less and less of it. As a result, aging skin is often dehydrated. 
By using Hyaluronic Acid skin care products, you'll supplement the lack of naturally occurring acid and return your skin's glow and plumpness. 
Let's see how this magic skincare ingredient works.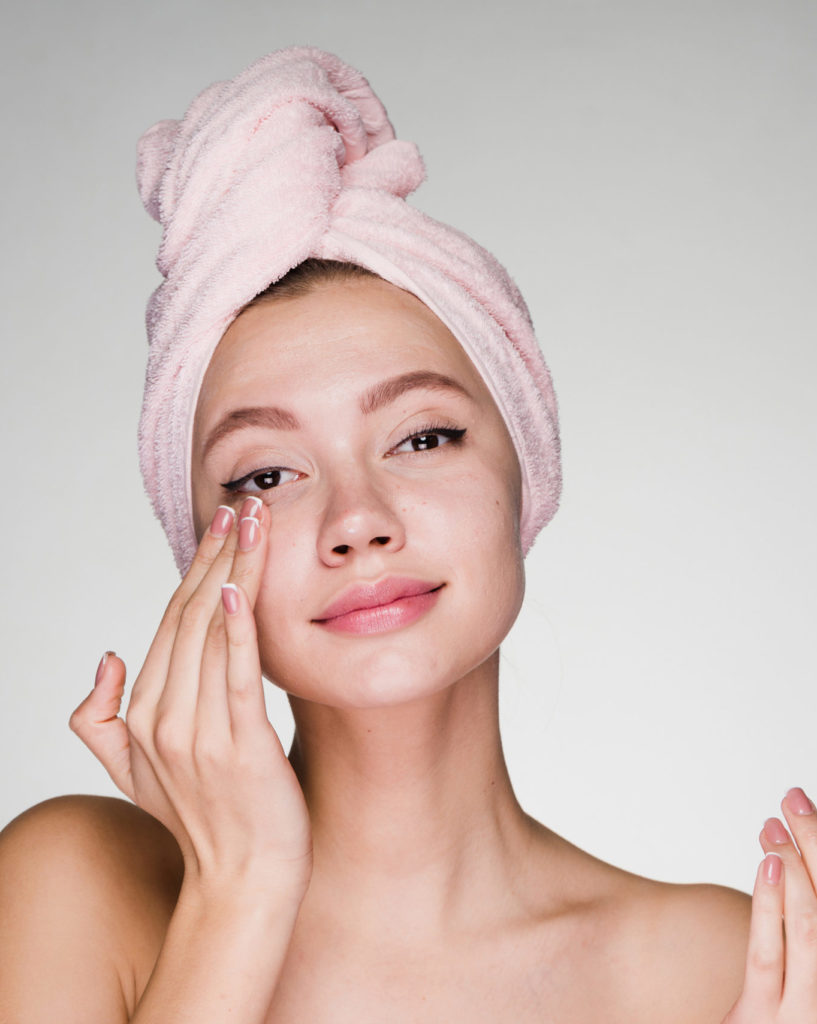 What Is a Hyaluronic Acid in skincare?
Hyaluronic acid, or HA, is a sugar molecule that occurs naturally in our bodies, mainly in the skin but also in our eyes and connective tissues. Its primary role is to keep everything moisturized – from our eyes and joints to our skin. 
And although 'acid' often sounds like something that will strip off a skin layer, that's not the case here – it doesn't have an exfoliating effect – it only helps your skin retain water. Due to its hydration properties, this acid is one of the most effective ways to moisturize your skin on a cellular level. 
We mentioned that it is naturally occurring. However, aging, UV-rays, and exposure to different free radicals decrease the production of this acid over time. So, logically, the best solution is to help your skin by adding this active to your topical skincare regime or use your best face cream containing it.
The Science Behind Hyaluronic Acid
It is a collagen and water-binding sugar molecule. HA acts as a magnet for the water. As a result, it makes your skin retain moisture and look plump and dewy. Hyaluronic acid is produced all over our bodies, but mainly in the skin, eyes, and connective tissues. The main benefits of hyaluronic acid in skincare are moisturizing and hydration.
Skincare Benefits of Hyaluronic Acid
HA has many different benefits when taken in various forms – from lip fillers to eye moisturizing drops. But, here, we'll stick to the clean skincare benefits and why is beloved by high-efficacy skincare brands.
Hydration and moisture retention
According to research, topical HA products help moisturize the skin with an incredible 96% efficacy. Incredible, right? It can hold almost 1000 times its weight in water. These fantastic properties make it an excellent moisturizer.
Anti-aging and anti-wrinkle effect
It's a well-known fact that skin dehydration and dry skin are common contributors to prematurely aging skin. HA traps and binds water under the skin, returning its moisture. So, although this acid doesn't have a direct anti-aging function, its hydration properties make the skin fuller and plumper, thus decreasing the visibility of fine lines.
Skin healing and regeneration
The wound healing properties of hyaluronic acid are research-backed and proven repeatedly. Unfortunately, HA cannot help you with acne-prone skin and breakouts, but it may help fade acne scars. Some of the best skincare ingredients for acne scars and skin regeneration are HA, Snail Mucin Extract, Vitamin C, Niacinamide, Glycolic acid, and other BHAs and AHAs.
Closely related to hyaluronic acid's wound healing properties are its antioxidative properties. According to research, HA shows great results protecting the skin from free radicals and the daily cell turnover. 
Hyaluronic Acid Side Effects
Since it's a compound that our bodies produce naturally, it has no known side effects to date. Often, people who have side effects from a hyaluronic acid product react to one of the preservatives in the product. That's why, once again, we urge you to choose Halal skincare, meaning clean beauty brands with carefully selected ingredients.
The only side effects of hyaluronic acid come from injection fillers. Although, in this case, the ingredient itself is safe to use, it's the procedure that carries the risks.
Who Can Use Hyaluronic Acid?
HA is typically non-irritative and handled well by all skin types, even sensitive skin. But, who can benefit the most from the skincare products containing it?
To avoid side effects from products, always choose clean beauty products based on a minimalist skincare approach and free of irritants such as parabens, phthalates, sulfates, mineral oils, etc. 
How to Use Hyaluronic Acid?
Hyaluronic acid for skincare comes in many different forms:
Topical products

Injectable fillers

Oral supplements 
Of course, we strongly encourage you to opt for natural skincare products with natural ingredients containing this active naturally like Snail Mucin instead of choosing injectables. These products are safe and can be bought over-the-counter since they have practically no side effects. 
Always ensure that you choose, clean skincare products/Halal-certified brands for the healthiest and most environmentally-friendly approach to skincare. And to avoid skin irritation, ensure that the skincare product doesn't contain over 2% of HA.
Hyaluronic Acid KEY FACTS
| | |
| --- | --- |
| INGREDIENT | Hyualuronic Acid |
| INGREDIENT TYPE | Humectant, Moisturizer |
| MAIN BENEFITS | water-binding, moisturizing, hydration, skin healing, skin protection |
| WHO CAN USE IT | all skin types, but it's particularly beneficial to dry skin and aging skin |
| HOW TO USE | hyaluronic acid is a safe ingredient, and you can use it twice a day topically. You can use it in the form of a moisturizer with hyaluronic acid, a cleanser, or night serum. Consult a professional before using this acid as a supplement or an injectable |
| NOT RECOMMENDED FOR | everyone can use HA, even sensitive skin types should experience no irritation |
| COMBINE WITH | Vitamin C, Glycolic Acid, Lactic Acid (and other AHAs and BHAs), Retinol, Snail Mucus Extract, etc. |
| DON'T MIX WITH | hyaluronic acid doesn't have any adverse reactions when mixed with any other skincare ingredients |
Find Hyaluronic Acid in the Advanced Renewal Face Cream!