Dry Skin Care: A Guide To a Deeply Hydrated Skin by NUME-Lab
If you're a dry skin type, you know very well that it's not just people with oily skin that have issues. On the contrary, this type of skin can be much more sensitive and reactive. Dealing with flaky and dehydrated skin is no fun at all. 
Let's start with one of the most critical points to remember – dry skin care requires clean beauty products – a minimalist skincare routine is best suited for dehydrated skin due to its increased sensitivity and reaction to harsh ingredients.
Different culprits can contribute to dry skin, from the way you shower to the quality of the air you breathe. Regardless of the cause, you'll need to replenish and hydrate your skin.
How to Recognize a Dry Skin Type?
This kind of skin has a disrupted lipid skin barrier, making it lose moisture quickly and for this reason it will have the following signs and symptoms:
A loss of moisture

Flaky, scaly, and peeling skin

Rough and patchy skin

Skin tightness and skin cracks

Itching and redness

Premature wrinkles

Sensitive and easily irritated
Dry skin signifies dehydration. But what is the underlying cause of dehydrated skin?
Let's start with the factors we cannot influence – the internal ones: 
Genetics

Hormonal fluctuations
Diseases (diabetes, hypothyroidism)

Skin conditions (dermatitis, psoriasis)
Contrary to internal causes, external causes can be influenced and prevented: 
Harsh weather conditions – weather that's too hot or cold;

The wrong skincare routine – harsh cosmetics ingredients and frequent hot water showering;

Exposure to UV rays – always wear sunscreen to avoid dry skin and premature skin aging;

Diet and lifestyle –

smoking and a diet rich in processed foods have a skin drying effect. And of course, water is also crucial for skin hydration;

Medication – for example, diuretics, certain topical or oral anti-acne products, chemotherapy treatments, etc.;
Body Areas Prone to Dry Skin
This type of skin is typically related to external factors and for this reason, our face is the body area that's the most prone to it, however these are the areas most prone to this skin condition:
Face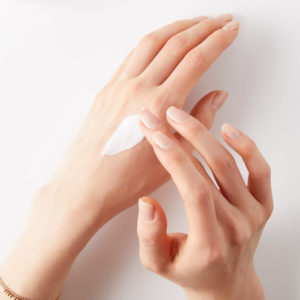 Hands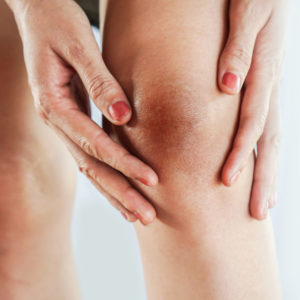 Shin (lower legs)
Feet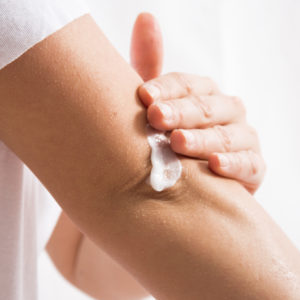 Elbows
What Skincare Ingredients Are Best for Dry Skin?
Dehydrated skin requires soothing and moisturizing active ingredients that are powerful yet gentle enough not to irritate. Some of the best actives for dry skin are:
Lactic Acid
Urea
Ceramides
Coconut oil
Shea butter
Vitamin B5
AHAs (in moderation)
Lanolin
Facial skincare for dry skin and acne
Although the above ingredients are beneficial, not all of them are suitable for acne-prone skin types. Some of them are oily and comedogenic, which is good for dry skin, but a contraindication for acne. So, how to treat acne-prone dry skin? 
The best face cream can contain nourishing active ingredients like Snail Mucin, Hyaluronic Acid, Betaine, Aloe Vera, Vitamin B5, and similar.
To learn about the ingredients click here. 
For acne-prone facial skin, it's even more essential to use natural products rich in organic ingredients and Halal skincare which means clean ingredients and cruelty-free. With a minimalist skincare routine, you'll nourish your skin with highly effective natural ingredients without exposing it to harmful substances.
What Ingredients to Avoid for Dry Skin?
Every ingredient that's harsh and strips off a thick skin layer at once should be avoided. The majority of dehydrated skin types are also sensitive, so avoiding irritants and chemicals is vital. Here's what to avoid:
AHAs (when used excessively otherwise they might have a hydrating function)

Alcohols

Fragrances containing harsh ingredients or

phthalates

Apple cider vinegar

Retinoids
10 Daily Skincare Routine Tips for Dry Skin
Avoid dry air and use a humidifier when necessary. Avoid sitting in front of a fireplace or staying in freezing weather for prolonged periods.
Shower with lukewarm instead of hot water, especially when washing your face. Furthermore, limit your shower time – five to ten minutes maximum.
Use natural, organic, and Halal skin care products. Dry skin is typically sensitive, so it reacts badly to irritants and harsh ingredients.
Avoid irritant skincare ingredients like alcohol, parabens, sulfates, fragrances, mineral oils, and similar. Even if some of these components seem to be effective short term, they'll dry out your skin even more in the long run.
When possible, choose high Biotech for example Swiss skin care brands – Switzerland has one of the strictest cosmetic laws that ban over 1328 ingredients, compared to US laws prohibiting only 11 of these.
Skincare brands with snail mucin extract can be particularly beneficial to dehydrated skin that needs regeneration. Snail mucus is naturally rich in Hyaluronic acid, Collagen, Elastin, and Glycolic acid – all components perfect for moisturizing dry skin.
Moisturize often, and do it on damp skin. After showering, don't wipe off your face with a towel. Instead, apply your best face cream on a damp face to lock the existing moisture in.
Up your intake of Omega 3s – they're crucial for healthy and hydrated skin. Try to eat fatty fish like salmon, flax seeds, walnuts, and chia seeds.
Don't exfoliate or wash excessively. Doing this will strip off the natural lipid barrier of your skin and make your skin even drier than before.
Drink your water – aim for a minimum of two liters per day, preferably more! Sounds cliche, but clean water intake is a miracle cure for many ailments, including the most challenging type of dry skin. 
Dry Skin? Discover the power of Snail Mucin Extract enhanced by Swiss Biotech!
Save now by shopping our Skincare Bundles