Combination Skin: How to Treat Skin That's Both Oily and Dry?
Combination skin is proof that nothing in life is ever black and white. It's easy to treat dry or oily skin, but how are we supposed to treat skin that's both oily AND dry?
Finding the right skincare routine for this skin type can be challenging since you need a product that's hydrating enough to take care of your dry patches but oil-free not to make the greasy parts even greasier.
Combined skin is the most common type of skin, yet treating it can be the trickiest. Use this comprehensive guide on combination skin to figure out what works best for skin like yours.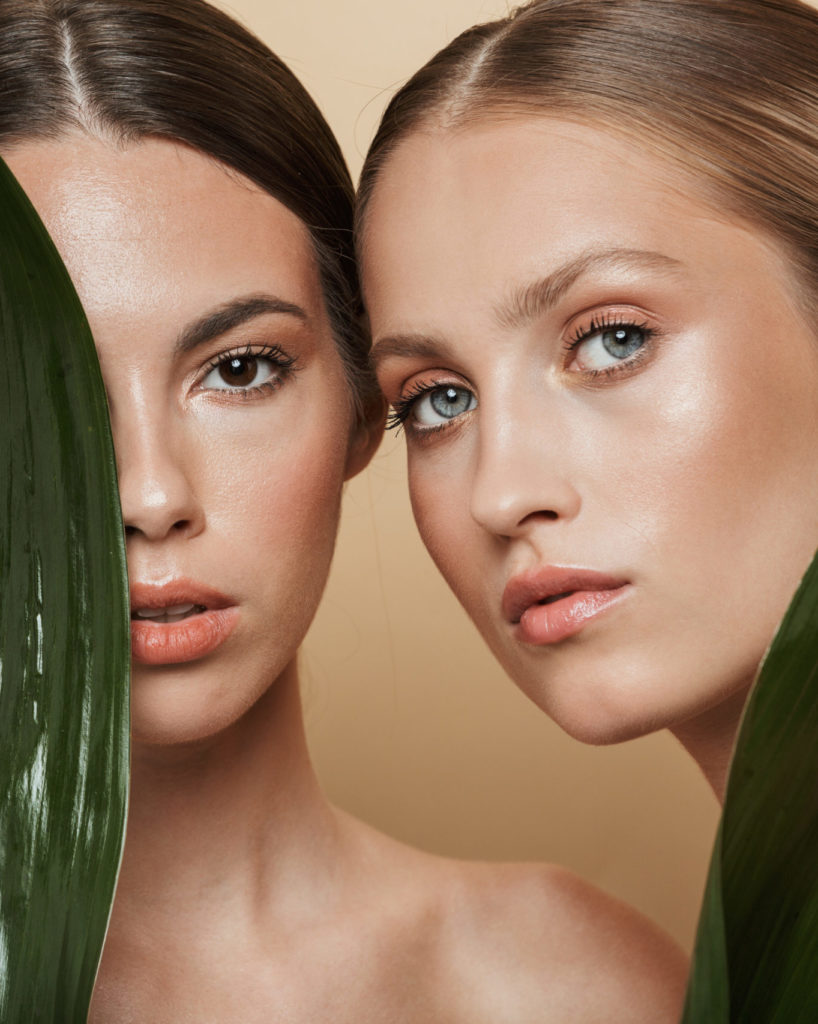 What Is a Combination Skin Type?
People with a combination skin type will have facial skin that's oily in some parts but dry or normal in others. 
Typically, this skin type is associated with an oily T-zone (forehead, nose, chin) but dry cheeks and jawline. However, some cases of combination skin have an oily T-zone with normal skin everywhere else. 
The T-Zone is always the greasy area in combination skin since there we have the most sebaceous glands.
Characteristics of Combination Skin
It will usually have some or all of the following signs:
An oily T-zone

Dry or normal cheeks

Visibly enlarged T-zone pores

T-zone blackheads or whiteheads

Skin changes based on the weather

Flakiness or dry patches

The appearance of dandruff

Acne and dryness at the same time
To have this type of skin, you don't necessarily need to have all of the above characteristics. But generally speaking, if you notice that some parts of your face are drier than others, you have combination skin.
What Causes Combination Skin?
This skin types often change depending on the weather and other external factors. For this reason, we can't say that anything in particular causes this skin type. It's rather a mix of the following:
Genetics

Hot or cold weather

A humid or dry climate

Hormonal changes

Wrong cosmetics products or wrong mix
Best Skincare Ingredients for Combination Skin
Combination skin requires balance most of all – this type requires products that don't dry or grease the skin too much. We know that alcohol-based products remove oil quickly, but they're too drying for the rest of your face. On the other hand, products for oily skin could leave you with flaky and dry skin. So, how to find a middle ground? 
The best solution is a clean beauty routine with Halal and cruelty-free natural skin care, face creams products. Here are the ingredients most beneficial to your type of skin:
Snail Mucin is a naturally moisturizing ingredient that will deeply repair and regenerate thiy type of skin. These benefits of Snail Mucus come from its composition of Allantoin, Glycolic Acid, Hyaluronic Acid, proteins (collagen and elastin), peptides, and antioxidants.
As an AHA with the broadest use in skincare brands, Glycolic Acid can gently exfoliate your dead skin cells and promote skin regeneration. Just be careful not to use a concentrated Glycolic Acid serum more than twice a week – otherwise, it could dry out your skin.
Lactic Acid is another amazing AHA designed to moisturize your skin deeply. Due to its hydration properties, Lactic Acid is also a great weapon against aging skin.
Known for its skin purification and exfoliation properties, Salicylic Acid is a type of BHA you can use if you have acne-prone combination skin. As an added plus, this BHA can help you get rid of dark spots and acne scars and give you an even complexion.
Due to its antioxidative features, Vitamin C is an excellent cosmetic ingredient for combined skin. As an additional plus, it will also speed up the healing of acne scars and brighten up your complexion.
Hyaluronic Acid is simply perfect for combination skin! Its primary role is to hydrate and moisturize, and its light texture makes it suitable for all skin types.
Also known as Panthenol, Vitamin B5 is another good ingredient for combination skin since it has a soothing and hydrating skin effect.
Ceramides are the lipids that hold our skin together like glue. With the help of ceramides, you can repair your skin's natural barrier and balance out the moisture throughout your facial skin. In addition, ceramides lock moisture in, so they're a tremendous hydrating ingredient.
Worst Skincare Ingredients for Combination Skin
When you have combination skin, the wrong face cream ingredients can quickly transition your face into the oily or dry skin categories. To prevent that, avoid both extremes – comedogenic, oil-based products as well as drying alcohols. Here's what not to use: 
Fragrances containing harsh ingredients or

phthalates

Parabens

Alcohols

Sulfates

Mineral oils

Paraffin
Daily Skincare Routine for Combination Skin
Lastly, we'll share some skin care routine steps for combination skin that will show you in practice how to take care of your face daily:
Step 1: Regular cleansing
A high-quality natural cleanser for combination skin can do wonders for your complexion! Regularly clean your skin, at least twice a day – once in the morning and once at night before bed.
Step 2: Moisturizer for combination skin
Use a fragrance-free, clean and organic face cream suitable for all skin types or formulated explicitly for combined skin. Since this skin type can be both dry and oily, always choose a water-based, non-comedogenic makeup. Moisturize a minimum of twice a day – in the morning and evening.
Step 3: BHA and AHA-based products
Regenerate your skin with skincare brands with Glycolic Acid, Hyaluronic Acid, and Salicylic Acid. Just don't overdo these treatments, or you might dry out your skin too much. Alternatively, use snail mucin skincare products since it's naturally rich in Collagen, Elastin, Glycolic Acid, antioxidants, and more.
Step 4: Non-comedogenic skincare and makeup
Since combination skin typically has an oily T-zone, we recommend that you use water-based instead of oil-based makeup and skincare products. Water-based products are non-comedogenic, and they'll let your pores breathe, thus preventing acne breakouts.
Step 5: Use a night serum
Using a night serum for glowing skin is an excellent practice you should introduce daily. The reason why we recommend night serums is because they typically contain more concentrated active ingredients. With this, your combination skin will get a deep regenerative treatment.
Check Out NUME-Lab Switzerland Skincare Routine!
Save now by shopping our Skincare Bundles