Hand Treatment in Skincare: A Guide to Keeping Your Hands Young
Hand treatment is often the forgotten part of skincare routine. You know that saying that you can hide your age as much as you want, but the hands will give you up? Well, no wonder when they're the most exposed to all types of weather and pollutants.
In addition, we're constantly on our phones nowadays, which means our hands are exposed more than ever before. And, by the time we realize that we should've started anti-aging hand skin care earlier, it can be too late to help your hands with a topical treatment. 
Let's jump right in and learn how to take care of our hands the right way.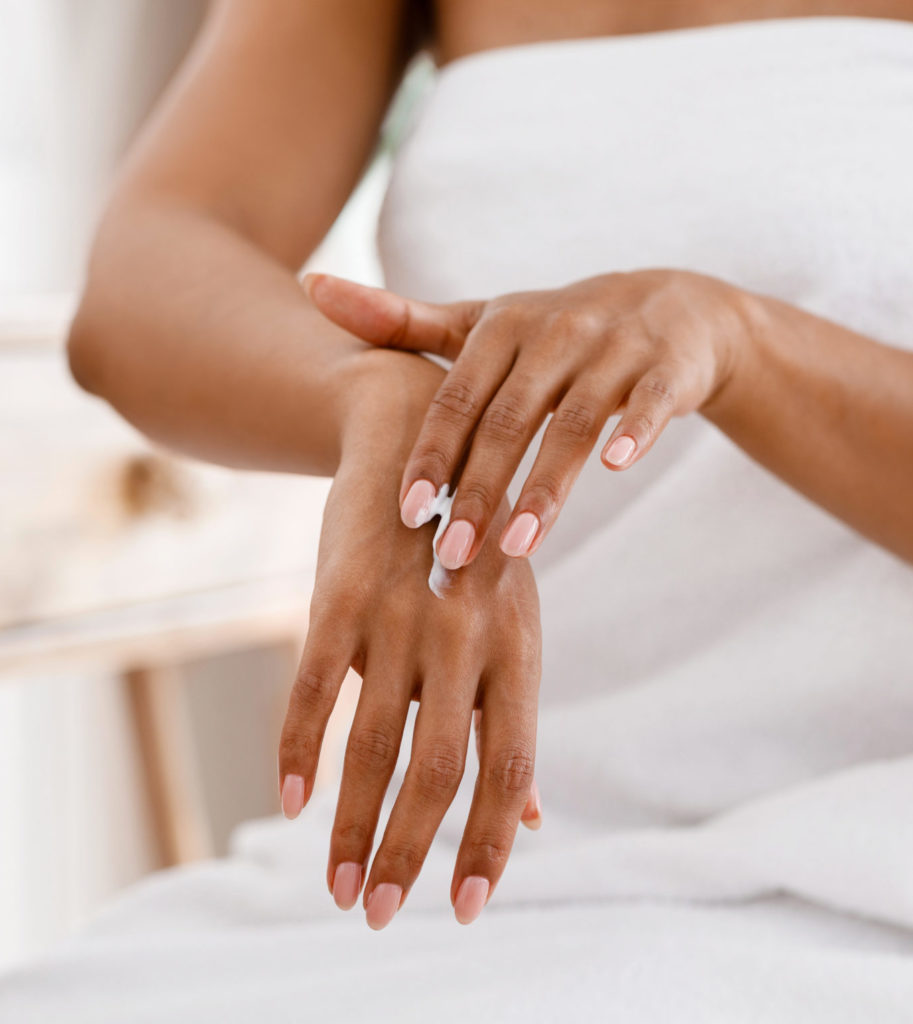 What Is a Hand Treatment?
A hand treatment can be anything from a simple hand moisturizer to a dark spots hand cream and even in-office cosmetic procedures like laser resurfacing, fillers for hand wrinkles, or UV light therapy. 
Hand creams typically address challenges like dry skin, aging skin, and dark spots. These are the most common hand skin issues, and that's why hand skincare products typically target one or more of these concerns.
Why Should I Do a Hand Treatment?
Good skincare for hands can help you:
Get rid of

dark spots

on hands or

age spots

and prevent new ones from appearing;

Moisturize your hands and prevent

dry skin

;

Keep the skin supple and boost

collagen

and elastin production;

Decrease skin thinning and the visibility of veins and surface blood vessels;

Prevent premature

aging skin

on your hands
What Type of a Hand Treatment Is Right for Me?
We here at NUME-Lab Switzerland are all about sustainability and nature, so we always opt for natural remedies for dry skin on hands or, at the very minimum, a natural skincare hand cream. 
We recommend using a high-quality anti-aging hand cream for sensitive skin. Cosmetic products formulated for sensitive skin are typically free of any parabens, phthalates, alcohol, MEA, DEA, TEA, methylisothiazolinone, formaldehyde, alumina, etc. 
Here are some of the best hand skincare ingredients:
Snail mucin extract

– a

snail slime

hand cream will moisturize your hands, protect them from skin damage, and give you an anti-aging effect due to its ability to boost collagen and elastin;

Aloe vera

– an aloe vera hand cream will help make your skin more youthful and fade discoloration and dark spots caused by sun damage;

Hyaluronic acid

– to make your skin plump and provide superior hydration;

Lactic acid – but avoid using it on cracked hands;

Vitamin C

– to treat hyperpigmentation in the form of dark spots and prevent skin damage;
Choose a Moisturizing Hand Cream
Contrary to facial skincare, our hands aren't acne-prone, which means we can afford to use occlusives that are too comedogenic for the face. For instance, good hand creams can contain shea butter or coconut oil – two ingredients with great moisturization powers that would clog your facial skin but not your hands. 
And, of course, when choosing occlusives in your hand treatment, at NUME-Lab Switzerland, we always recommend sticking to clean beauty and sustainable cosmetic products.
Discover NUME-Lab Switzerland Skincare
Save now by shopping our Skincare Bundles